There are many OTDS dance clubs around the UK run by volunteers. They are all different and welcome dancers of all ages and abilities. The dance leaders are friendly and always offer a warm welcome to anyone wanting to learn.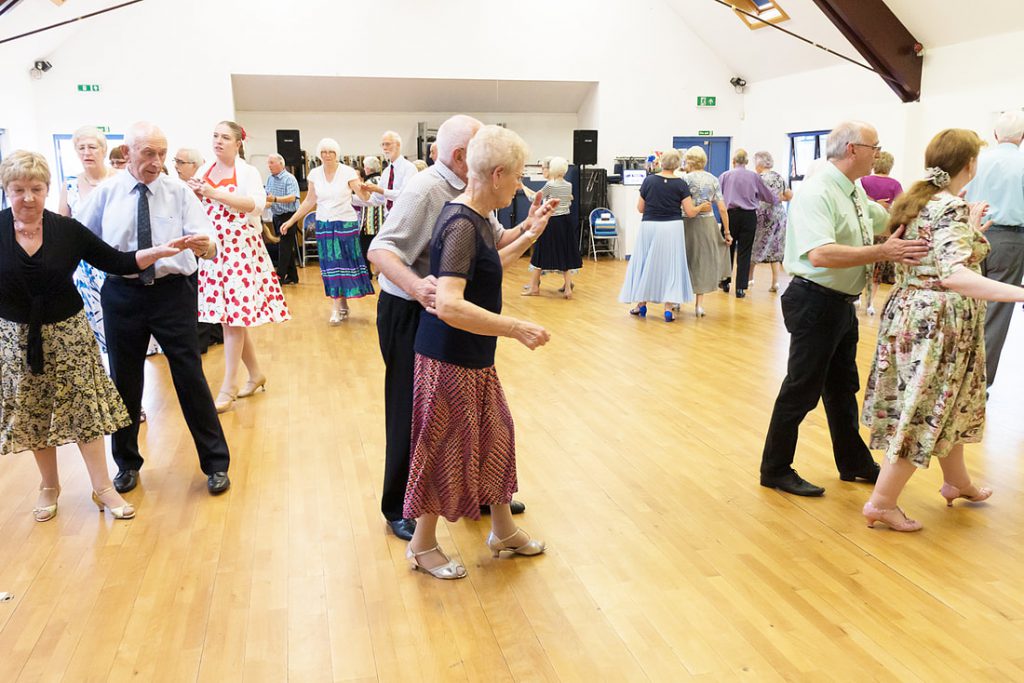 Find the location of your nearest OTDS dance club. Please always contact the dance leaders to ensure the event is taking place.
Cumbria
Grahame & Bernice Baldwin – 01282 416278. Old Time & Popular Sequence. Cumbria, Victoria Hall. LA11 6DP. Usually 1st Sunday each month 7.30-10pm.
Devon
David Houghton and Sheila Sargeant – 07927 293575 and 01884 35166. Merrymakers, Ash Thomas Village Hall, Nr Cullompton, Devon. EX16 4NT. Monthly 1st Tuesday 7-10pm.
Hampshire
Hilary and Nigel Carter – 01252 547461 or https://covesdc.com . Cove Sequence Dance Club – Old Time, Classical and Popular Modern Sequence, St Mark's Church Hall, Guildford Road East, Farnborough, GU14 6QE. Fridays 14:00 to 16:30 all year round apart from August when we are closed.
Hertfordshire
Meg – 0208 4401490. OTDC. Brookside Methodisy Church, Cat Hill East Barnet, Herts, EN4 8JB. Fridays 7.45-10.15pm.
Janice Williscroft – 01452 8828247. Central Methodist Church Hall, Pixmore Way, Herts, SG6 3TR. 8-10 pm. 2nd Tuesday each month.
Lancashire
Grahame and Bernice Baldwin – 01282 416278. St Philips Church Hall, Slade Lane, BB12 8NS. Monthly 2nd Sunday 2-5pm.
Somerset
Paul and Hazel Harding – 01225 760817. Bath Old Time Dancers. Saltford Hall, Wedmore Road, Saltford, Near Bath, BS31 3BY. Second Friday of every month 7.30-10.00pm. www.batholdtimedancers.co.uk
Brian Polley – 0117 9868540. Fear Hall. Keynsham High Street, BS31 1DQ.
Tuesdays, 7.30-10 pm. September to May. Saturday dances, 3rd Saturday. See diary
Surrey
Joyce Hutchins and Richard Purcell – 01252 331535 and 7796 535729. Summertime Dancing. Surrey Village Hall, GU3 2DD. Mondays, 1.45-4.15pm from January to December except Bank Holidays.
Yorkshire
John O'Brian – 07914 025169. Littlethorpe Village Hall, Littlethorpe, Ripon, North Yorkshire, HG4 3LW. Tuesday evenings every fortnight.
Kath and Keith Jackson – 01246 417355. Newton Memorial Hall, Cowley Lane, Chapeltown, S35 1SX. 1 mile from junction 35 of the M1. 2nd Sunday, 1.45-4.45pm. See diary for Sunday dates.
DRIFFIELD – Old Time & Popular Sequence Dancers, Driffield Community Centre, Mill Street, YO25 6TR. Contact: Dorothy & Richard Drury – 01262 601441